Licensed Trauma Therapist Needed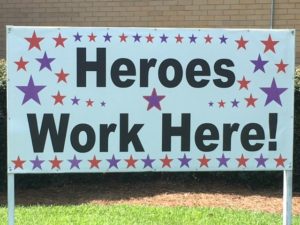 Merrimack Valley Trauma Services, celebrating 13 years of helping children and families, and a recognized leader in the field of trauma-focused therapy, is looking for our next clinician for our South Carolina office. We have an immediate opening for a strengths-based, professional, self-motivated individual with experience working with children, adolescents, adults, and families who have been impacted by psychological trauma. This is a full-time position, offering competitive compensation, excellent clinical supervision, and trauma-focused training with a highly experienced staff.
MVTS Offers:
• A diversified caseload with consultation and training opportunities. We encourage our staff to maintain caseloads that emphasize quality over quantity, and always include the family in the therapeutic process.
• A trauma-sensitive work environment and collaboration among a small team of professionals who take great pride in their work and their professional development.
• Licensed individual clinical supervision, group supervision, and training opportunities in evidence based treatments, including Child-Parent Psychotherapy, Eye Movement Desensitization and Reprocessing (EMDR), the Attachment, Regulation, and Competency (ARC) model, Alternatives for Families, A Cognitive Behavioral Therapy (AF-CBT), Trauma-Focused Cognitive Behavioral Therapy (TF-CBT), Emotional Freedom Technique (EFT), as well as play therapy, family systems therapy, and mind-body approaches.
• Private therapy office.
• Billing and administrative support that actively assists you and your clients.
Job Responsibilities:
• Conduct bio-psychosocial assessments and intakes.
• Create individualized, measurable, behavioral treatment plans with clients and their families.
• Provide trauma-focused counseling for children, adolescents, adults, and families via in-office and teletherapy sessions.
• Provide education to clients and other providers regarding trauma and its impact.
• Provide consultation, coaching, support, and education for parents and caregivers.
• Collaborate with other providers and professionals working with the client and his/her family.
• Complete all paperwork, billing procedures, and documentation according to company policies, Medicaid, and managed care guidelines.
Job Requirements:
• Master's Degree in Social Work, Psychology, Mental Health Counseling, or a related field.
• We require one of the following professional licenses in the state of South Carolina: LISW-CP, LMSW, LPC, or LMFT.
• A minimum of 2 years providing mental health counseling services for children, adolescents, adults, and/or families.
• Experience working with young children (3-5 years) and families preferred.
• Experience with foster care, physical abuse, sexual abuse, neglect, domestic violence, systemic racism, community violence, grief, and loss preferred.
• Excellent organizational and time management skills, excellent oral and written communication skills, and comfortable learning new technologies.
• While not a requirement, bilingual (Spanish) speaking candidates are strongly encouraged to apply.
Merrimack Valley Trauma Services is proud to be an equal opportunity workplace and is an affirmative action employer. We encourage people from every background to apply. The more inclusive we are, the better our work in the communities we serve will be.